When trying to speed up one of my older computers that is mainly used as a jukebox, I decided to change the yahoo messenger default settings so it no longer launches every time the computer starts up. In order to do that it required me to login, which I think is stupid, I mean the damn thing is running, why can't I just click preferences and change that? Anyway I logged into ye old messenger in order to change the preferences, and I noticed a message saying that the yahoo chat rooms were being taken off line Dec 14 2012. This was kind of shocking to me, as those free chat rooms have been quite popular for a long time. Here is a blog post from yahoo on their decision to kill off the free chat rooms. – Edit – The yahoo blog where that info was at seems to be having a database connection issue, that has lasted more than 48 hours, so taking the link down until it is fixed.
It was – http://www.sexchatsexchat.com/blog/2012/omg-yahoo-shuts-down-their-free-chatrooms/
The more I thought about it, the more it made sense that they decided to pull the plug on the chat rooms however. If I was commanding yahoo I might do that temporarily while I worked on a massive update for them, but perhaps they have realized that they have fallen so behind the times that it is not worth the effort to try to catch up. There are many things that yahoo could of done to monetize them better in the past, and many things they should of done years ago to keep them running strong. Can't blame the current leadership for the lack of updates that should of occurred years ago however.
It's kind of like watching a piece of internet history being shut down, which makes me sad, even if it did have many problems, it was still a part of the giant leap from most people using telephones to talk then transitioning to internet communication. Yahoo's chat rooms got some real bad press around 2005 I think it was, when advertisers were publicly pressured to pull ad revenue from yahoo as some news outlets started to expose people who were using the free chat rooms for underage sex chat, and even some people trying to create offline hookups for sex with minors using the free chat rooms there. I think that "to catch a predator" show mainly used yahoo chat rooms to find people willing to engage fake underage chatters and set them up for meetings to be exposed.
At one time yahoo messenger was a primary instant messaging center for many people that I knew, and is still one of the defacto programs to use for some quick off-the-site communication and spontaneous quick finding for some regular friends. Messenger however has lost popularity with some of my previous regular messenger friends, and I have not looked into the actual chat rooms they had there in a long time. There was a time years ago when some friends and I got in some of the chat rooms that were focused on sex and plugged in a webcam to enjoy the free webcam chat options via the portal. It certainly did not take long to find lots of other people who were eager to share their webcam, it was like chat roulette on steroids, years before chat roulette ever cam out.
In my opinion the big downfall for the yahoo chatrooms had to do with monetization and lack of updating their games and social networking options.  I imagine if they had a way to incorporate the kind of thinking that google does when deciding about ads to display around gmail they would have fared much better. I also believe if they had some more separation between the adult themed rooms and non adult, and allowed adult business to advertise around those rooms, it could of been a bigger part of their business model. Yahoo and MSN (now known mainly as Bing these days I think) kind of went back and forth when it came to taking and displaying ads for adult. I can't remember what the ad service MSN rolled out with for a while, it was something that sounded like nightflirt ads or something. It was like they would display search results and ad content for adult products and services, but wanted to make it appear that is was a separate company handling those ads, and I think they limited where the ads would display to some degree as well.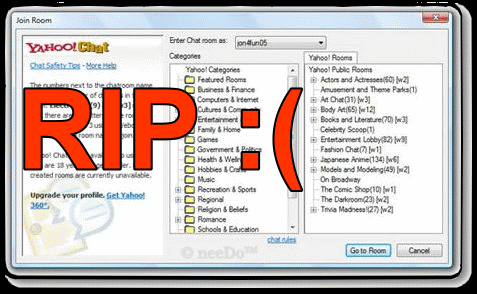 I read a story that mentions at one point yahoo decided to make their chat rooms 18 and over only, I assume this was after they got the bad press about underage people getting into sex chats in their rooms. Now if they decided to make that big of a change, why not actually go after that market strong and reach out to advertisers to make it a strong business? Eh, who knows what they were thinking or why in those regards. Maybe they did take some adult ad revenue for the chat rooms at some point, I can barely remember what they looked like now. It wasn't long before we started doing our own on site live cam stuff and moving towards the adults only portals for sex chat, so I did not spend much time there after the first year or so. We just found that we got more exposure and made more connections with more women when using the adult / porn focused sex messaging and dating portals like adult friend finder. We also got frustrated with the yahoo games not getting updates, and many of our friends started to gravitate to myspace chat, and eventually facebook.
Suggestion for you yahoo – we know that spam is an issue with messenger, those pesky bots suck sometimes. I have read some of the bot programmers are discontinuing their service as yahoo has made it tougher and tougher for them to connect to yahoo messenger. Well that's a good move in some respects, but how about simply adding a user selectable option for verification before these bots can send me a friend request and messages. I should be able to choose in messenger and or yahoo mail to make it so that others can not send me IMs unless they answer a "Do you really know me question" – I could setup a couple of questions and answers such as what is the real last name, or phone number or something. This way only the people I actually want to disturb me via IM will be able to even make a friend request or send a message, and the bots will have no idea, and thus be blocked from sending messages or friend requests. Of course these should be optional, but I think it's a good idea, I would certainly use this feature!
Reading what others are saying about this online I discovered that Microsoft has announced that they will be officially killing the MSN messenger soon, and converting all those accounts to use skype instead. There are already all kinds of complaints and questions from people who use the Microsoft messenger regarding the conversion to Skype, with issues about accounts, privacy concerns, and many others things from what I have seen on their blog comments. I was never a big fan of that messenger they had pre-installed on many computers, as it was a pain to try to get rid of it in the early windows xp days. Nothing should be that hard to uninstall.
Doing some research on this recent change with yahoo chatrooms, there appears to be a fair amount of users who are pissed off, and want yahoo to bring them back. Comments on the story here show a fair amount of people really unhappy with the loss of the free chat rooms from yahoo. Rumor has it there is a petition to get yahoo to re-enable them, and there are people screaming boycott yahoo for taking these down. I imagine there are a bunch of spammers that are pissed off about this for sure – for years some webcam girls have been instructed on how to troll the yahoo chatrooms to get people to come see their live webcam on a commercial site. That is going to put a hurting on the independent cam girls who were using those chat rooms as a place to get free exposure, and the other scammers who would use the rooms to troll for money in other ways. Certainly there are going to be a fair amount of people who are upset about the loss as they were used to the system there. I see that paltalk is trying to promote itself as the yahoo chat room alternative (or at least some people who are leaving comments around the web are claiming to be part of paltalk in some way). I imagine that some people will find themselves using paltalk, and some will find other alternatives. Hopefully the trolls will not make more of an effort to use our free sex chat rooms now  – we actively ban anyone who tries to abuse our chat system for commercial purposes.