Word was that the original chat aka the old chat was destroyed and lost forever.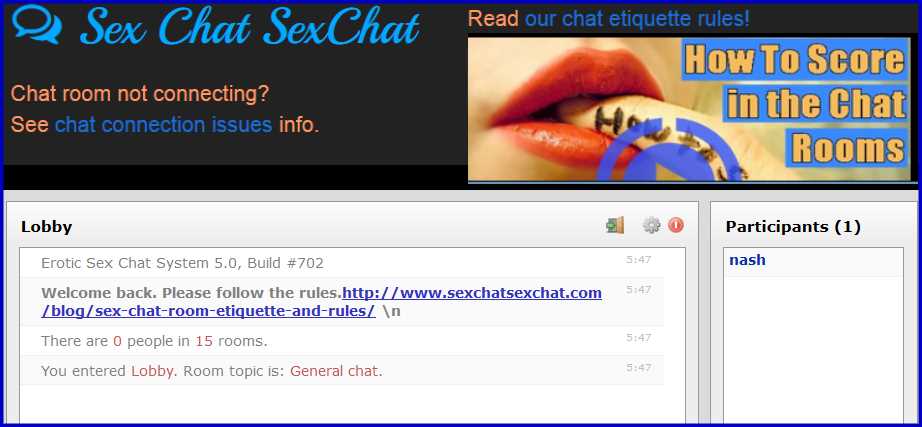 Yes. The OC as we had it before was terminated, and I had lost the install files and everything. Our original code partners with this OC system bailed years ago – all was lost.
How did this happen?
When going through files trying to patch up the NC aka New Chat aka Peeps Cams Chat – I came across some files I had transferred from an old chat server, which led me to our original first ever chat server. While looking for NC files there, I remembered the file structure of that old old server and a light went off above me and I heard awwwwwww music, I was reminiscing about the OC and how I used to.. yes. The old OC was on that old server, not the install files I needed, but it was running on that server before. Maybe, just maybe… enter command ./cd old chat start. Finds old web page from way back in the day, hits refresh. Welcome to the erotic sex chat system nash. Here are your crappy custom smileys and such you made forever ago. I'm still here. Waiting for you. Talk to me.
Fuck. Seriously. Yes.
So I'm looking at the OC running, scrambling trying to get the NC running properly. Things just get worse with the NC code – it's almost like it's been cursed or hacked or something. I call in mercenary help, and get no dice. Things are not going well with the NC. I am getting email complaints about the NC – I see people complaining in the chat room itself. I am seeing more and more comments on the chat connections page about not being able to log in. Even when I refresh everything and get in, I find it takes me like 4 minutes to switch rooms. Things are not looking for the NC.
I've also gotten enough feedback from everyone about the mv chat system that missing a few key features is making most people not want to use it. I'm not going to have time to add in updates for the MV system until February. We may need to open up the OC just to get us through the next several weeks.
Wait – I heard the OC was hacked and untrusted code.
Yes, that is true actually. You can read the details about all that on the two posts from back then here and here.
However, the OC code that was on a server when that whole server center got hacked – well I abandoned that code and asked our server security peeps to digitally shred all the files on that server and never looked back.
The code I am now running with the OC – this code was sitting on a different computer, in a different city. So it had not been touched by all the groups that had access to our OC server that was running at that one communications hosting company.
So this code should be clean, even though it's old, and it has it's quirks.
It's not going to last forever.
The OC system as much as we all love it, is not going to run forever. Of course I will try to keep it up and running, I love that little system. It has it's quirks, and it's based on flash, which means problems right now, and more problems in the future. I can't say how long it's going to last, it could be a couple of days, it might last a couple of months. I plan to have some newer systems testing in January and February, and my goal is to mimic as much of the OC system as possible in that amount of time.
Once we get a newer system running that has the important features like creating user rooms with passwords and such, we'll kill off the OC once again. There is no way to change it's code to be non flash based code – most web browsers will be preventing flash code from running soon, although most will have some kind of click to load flash with a warning about security and stuff. Windows is rumored to be forcing that on future updates no matter what browser people are using.
We are also seeing more and more people getting online and looking to sex chat with devices that never have and never will support flash – thus many people today, and even more people tomorrow will not be able to connect to the OC. As much as I love our current and past regs, we certainly want to provide a system where newer people in the future and come in and hook up with us. So I'm still dedicated to fixing up the MV chat since it has a mobile-usable chat client – and make that better than it currently is. I am also dedicated to working with this new 'tekor chat' system, which was built with mobile devices in mind, and being cross platform compatible (windows, mac, android, linux, ipad, etc) right from the start. The code base is modern and made for today's current web servers, and today's web users – so it's gonna rock, I just need to get a couple more code chunks added and then it'll be up for testing and feedback from everyone – hopefully before end of January.
So hold tight folks, good things are coming, and lots of changing are happening, with more on the way!
The 'NC / aka New Chat aka peeps cams chat – is also flash based, and it having other problems with it's code base as well – so it's likely not going to be online past January at this point. Some info about that here: https://www.sexchatsexchat.com/blog/2016/new-chat-old-newer-chat-coming/
Help us plan for the future – take a minute and vote in our 2016 user poll click here.