Having trouble connecting to our free sex chat rooms?
Xirta Chat down for everyone April 5 9pm-ish (?) EST – looking into it 11pm – no ETA atm.
The Peeps Text Chat system here is another option while we setup a better one. (and there are now pt chat rooms for each "group" in the peeps section.
If the chat system is down, and Nash knows about it, it will be posted above here / at the top of this page.
If the main chat system is down and I do not know about it, others will likely post a comment on down below. (look for the date and time that comments are posted)

When the main OC / Original Chat / Old chat system is down, many of our users will pop into the mf-chat-rooms aka flashy chat system or the PT text chat system which is another backup option some may enjoy.
If you are looking for friends you had planned to meet in the chat and it is down, you might find that they have a profile in the peeps members section where you can send a private messages even if they are offline at the time, and tell them which chat system you are popping into and when.
---
The OC Chat system requires the adobe flash player in order to work. The flash player normally only works with regular computers (it's tricky or not  usually an option with mobile devices, tablets, phones, etc) – Even if you are using a desktop / laptop, and have flash installed – your web browser may be blocking the flash player from working unless you do a few extra clicks.
Enable the Flash Player in your browser
This works only if you have already downloaded and installed the latest version of the flash player from adobe.
Here are a few graphics showing what the clicks may look like with firefox and chrome on a windows computer:
Enabling the flash player has become harder in recent times, if you have a different setup and solution, please comment in the comments below and let me know!
If you are having an issue with the font going crazy, or the chat not letting you type after you get or send a pm or whisper
– then there are two possible culprits.
1 – Recent updates of Internet Explorer and Adobe flash have been giving people trouble – try using a different web browser such as firefox to see if that fixes the problem. We have not had time to research whether this is an IE problem, or a setting / plugin within Internet Explorer that is causing this issue.
2 – some of our chat room pages have too much java, and cause some weird issues on some systems – if this is the cause of your issue, then you should be able to use the chat room on this light graphic / less java intense chat rooms page. If that fixes your issue, then we know what to look for in this case to fix.
You see a white box / screen. The page loads, but the chat room does not appear.
You must have the VERY LATEST updates for the Adobe Flash plugin. This is the most common problem that users have. Even users that have been able to use our free text chat rooms in the past may not be able to connect after a new update to flash  has been released by adobe. This is due to security issues, and is easily resolved by doing on update. After a flash update you will need to close your web browser and restart it, you may need to restart your computer.
If you have the latest flash player plugin, no error message, and no chat room – click to jump below / down the page to try these steps first to fix the issue.
Do you see an error message when trying to load / connect to the free text chat rooms?
1 – Error message displayed – username or IP address is banned:
It could be that the username you have chosen got banned by someone else, so you could try to connect with a different username. If that does not work, then it could be that someone got a broad range ban place on the IP address block that your ISP assigns to you. You can read why we do broad range bans that may affect other users who were not the ones we intended to ban. If you did, or think that you did not do something that got you banned, then read then read info about getting kicked / banned from the chat room for more info.
2 – Error message displayed – something like "Server sent no data" – first make sure the plugins listed above are updated and try again to connect, on the chat room page, hold down the shift key, and click refresh / reload the page.
Most users will be able to connect to our free sex chat rooms just fine after checking the things listed above. If you still can not connect, I'd like to know about it, and these additional tips below may sort out the problem.
2A – If you get an error message in Internet Explorer about ActiveX being blocked, you need to click the bar near top of the window and tell IE it's okay to run our chat program on site – graphic showing this here on java support page.
There are many possible causes for not being able to connect to the chat rooms. There could be internet delays, trouble with one or more ISPs not being able to route the info to you from our data center, hardware or software that is blocking the two way java and flash connection from our web server to your network, router, or computer.
Some things will be out of your control, such as the superstorm that knocked down a big chunk of internet flow in Nov 2012, and there are other possible reasons, but lets try the easiest fixes first.
If the main chat system is working fine for everyone else, yet you still can not connect, the most common problems and their respective solutions are posted below:
Did you try to login and get just the blue screen, or a message that said "Disconnected" or "connect failed" or something like that?
If so, there are many possible causes, especially with our new security layers, it's no big deal, just get back to the chat room screen, and refresh / reload the page. Some users will need to get a fresh / non-cached version of the page, so you may need to hold down the shift key while clicking reload / refresh page (most browsers will work with shift + F5)
** If you saw a message saying something like "could not connect Server Sent No Data"

you may be in one of our blocked countries ( Romania, and a few others )

or using an ISP (internet service provider) a proxy or vpn service that has made it on our bad / blocked list

or you have been manually added to the permanent ban list

– reloading the page will do no good.
You could get the message "could not connect / server sent no data" and not be on a ban list or a blocked ISP or country list.
There are a few times a year when our chat server goes offline, and no one can connect. Usually when this happens other people will post comments below here asking if it's a global issue. You can see by the times and dates of comments below the times when our chat server was giving this message to everyone (unless you are the first to notice and comment on that particular day); although it does not happen very often, it has happened a few times over the years.
We have blocked huge ranges of ISPs and networks from accessing the chat system, so if you are using Orange.fr to access the internet and get that fail message, we have blocked most of Orange.fr – and many other large blocks of Internet Addresses from several Internet Service Providers that we have had problems with. If this problem persists for you for more than 8 hours, you might want to comment below and ask if your ISP, VPN, Proxy, or Country is on the banned list. It could be that you are using the same internet pipes that others have used that violated our rules and you are now caught up in a broad range ban, or it could be that you have triggered this ban.
Steps to try first
Try a different web browser.
If you are using Internet Explorer, try connecting to our chat using Firefox, Chrome, or Opera. Likewise, if you are using firefox, or chrome, try to connect using Internet Explorer. Sometimes a plugin for one of the browsers causes trouble that is not an issue when using a different browser on the same computer. If you are able to connect with one and not the other, then the good news is that we now know there is some reason that one browser on your system is not allowing the necessary connections, and you will be able to connect using a different web browser! We could go into reasons why one browser works and the other doesn't – but I am trying to keep this short and simple to help the majority of users without overwhelming everyone with too much. We could discuss those in the comments below perhaps.
Note that currently our chat rooms system require a computer web browser that supports Java and Flash. This means that most mobile devices will not be able to access the current free text chat rooms. iPhones, iPads, most android devices, and similar devices do not support Java and Flash at the time of this writing. We are experimenting with different technologies to bridge this gap in the future, but right now there is so many changes in the mobile computing field that it is tough to know if html5, or some other technology will be broadly adapted to bridge this gap. We are working on a solution, but the computer gods are not making it easy at this time, sorry! If you are stuck using a mobile device for chat, you could probably use our sex chat peeps social section or email like private messaging, and you may have some luck with the Live Jasmine networks new mobile friendly design.
Turn off your firewall / antispyware / antivrus protection temporarily, and try to connect.
Make sure you turn your protection back on as quickly as possible – just try disabling your suite, or individual components of your suite, and see if you can then access the chat rooms. There could be parental filtering software built into your protection suite, or something that is set in your firewall / antivirus software that prevents the necessary two-way communication with our chat server. If this solves the problem, then it should be possible to go into your protection software and add an exception for our web server, that way you can leave your protection turned on and access the chat rooms. We will have to go into the various ways to do that in the comments or something, as it would take a ton of text here for the various software suites different ways of opening access.
Try a different computer or connection.
If you have another computer at your location, try a different computer and see if that one can access the chat rooms using the same internet connection. If using the same internet connection / ISP / and network (router, etc), but using a different computer makes it so that you can connect to the chat rooms, then we know it is something on that one computer that is preventing your access.
Try to connect using the same computer, one a different network.
If you are using a laptop, try taking it to a coffee shop or friend's house and see if you can connect to the chat that way. If your computer will access the chat rooms at friend's house, but not at your place, then we can assume something with your network is preventing access. Some routers will block the two way communication that Java needs to use our chat system.
If you are using a router at your place that splits the internet connection between several systems, or using a wireless network, try plugging in directly to your cable modem / DSL modem or whatever. You will need to unplug the router, plug your computer directly into the main modem, and restart your computer. If this solves the issue, then we know it is something else outside your computer, likely "port blocking" on your router's security settings, or a weak wifi signal.
Using Hughes Net, Dish Internet or other satellite ISP?
I tried to troubleshoot with a regular user for days on possible issues, only to find that he was using a satellite internet service provider, and it simply could not handle the needed upload speed to stay connected to our chat server. The satellite ISPs are great with download speeds most of the time, you will probably be able to watch videos and other intensive bandwidth applications just fine as long as you are downloading data mainly. Our chat rooms need a fast connection for download and upload stream as well. I have not tried our chat with a dial up ISP running at 56k, it may work, it may not, but there is something with the speed ratio of most satellite ISPs that will likely prevent you from being able to use our chat system. If it downloads data at 100 mph, but the upload is going at 5 mph, then you can imagine that your sending, receiving, and our web server's syncing of the chat messages will simply fail. You could try regular dial up and see if that speed ratio works better, or one of the cellular phone service providers to see if they work okay. Those options will not give you the download speed to download large movies quickly, but they may be better calibrated for two way communications.
Other issues preventing access to the free text chat rooms
There are other issues that could affect your ability to use our chat system, some company networks block aspects of Java from running, some countries have blocks on adult web sites. There are possible issues with the internet as whole, and it could be one of the rare instances where are web server is having a problem. Over the years I think our chat system has been down a total of about 48 hours, so 99.9 times out of 100 our server is handling everything just fine. If our web server was down you would likely not be able to read this page, so that's probably not the issue at the moment.
Some people have trouble with the two way communication needed with their ISP. We have found that many users from parts of Africa get massive delays in the sending and receiving of the "packets" needed for our chat system to function. Many of these users will not notice major affects when downloading static pages from around the internet, but our system requires not just downloading of information, but uploading and downloading, and doing both in a synced up manner. If your ISP is far away from Arizona, USA – then there is a good chance all the hops around the world can cause problems.
I hope the information on this page helps most of our visitors solve most of their connection problems. I may come up with some other problems and solutions to add and update this page with later. For now, I think most people will have the problems fixed when they update Java and Flash.
If the solutions listed above do not work, we may be experiencing some difficulties with the chat system. Due to our recent popularity – there may be times when the chat system is overloaded, and not accessible. You will find discussions about the chat system being up or down, and info about our backup chat systems on this off site page at wordpress dot com – scsc chat backup info.
Many users will likely migrate over to our "New Chat, or Peeps Cams Chat" during a service interruption with our main / OC (original chat rooms).
Since our OC has been down more than 30 minutes, I am also opening up a preview of our MV Chat system that will be coming online for everyone 24/7 in the near future.
We are also working to further the new version of our mobile friendly flashy chat, the new MF Chat rooms system in the near future as well.
You may also get information from other users about the current state of the chat system at our new chat backup site at sex chat space.
Using Firefox for the Original Chat / Old Chat?
Version 31 of firefox will not work with our OC chat rooms. Luckily mozilla released an update to firefox that fixed this issue. Click here to see how to check your version of firefox to make sure it is not 31.
*firefox and possibly other browsers are blocking flash July 14, 2015 – click here for our post on the flash exploit breaking the chat rooms loading for some with firefox.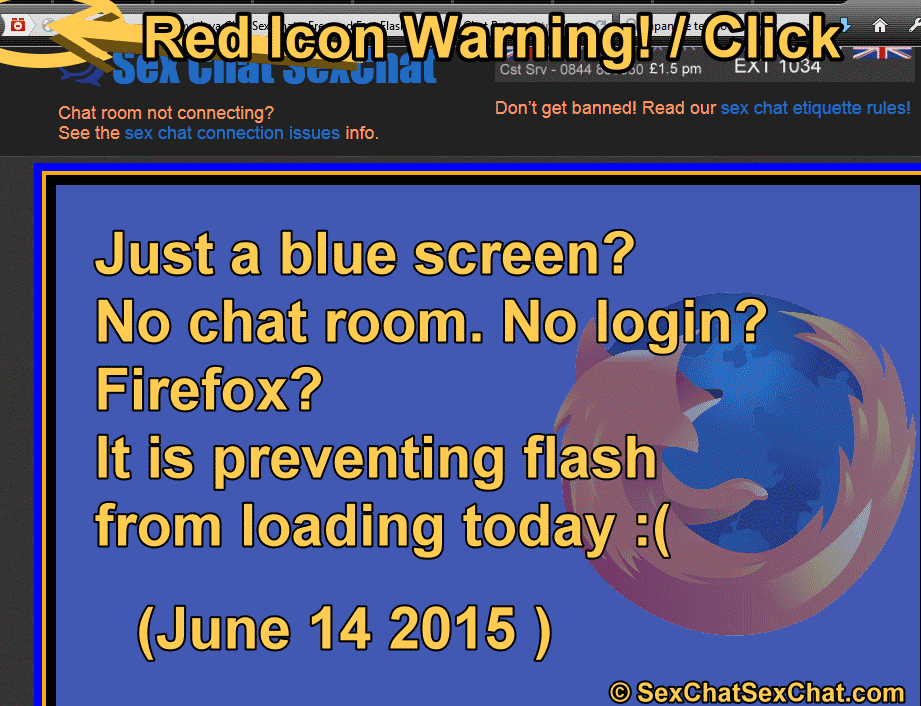 Your family's hacked devices causing trouble for internet chat? Quite possible.
Random connection problems – not able to connect, not able to login – if logged in then can't change rooms, getting logged out – not 100% of the time – but at random times here and there since Oct 17th. It's not our chat system, but some congestion with the Internet itself, particularly in the USA – details and map showing whats been happening Oct – Nov 6 and still going off and on here: https://www.sexchatsexchat.com/blog/2016/enslaved-smart-devices-fucking-up-your-sex-chats/
The OC aka Old Chat / Original chat / java chat will likely no longer work starting Jan 1st 2021.
We are moving towards a new system, the Xirta Chat System Info Click here.
Comments from others