How to score more friends and lovers in the sex chat rooms.
Finally our first "how to" video for scsc!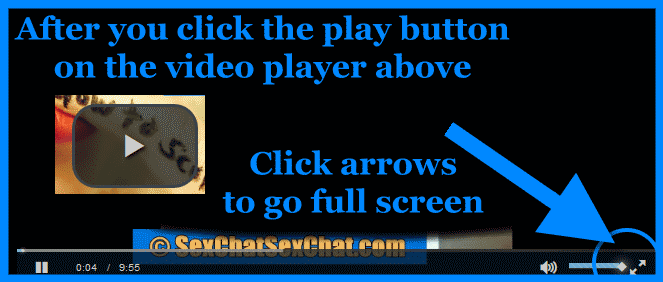 This video should help people get a better understanding of the basic chat room functions and some of the rules and expected etiquette of the chat rooms here.Understanding how to use the tech features of the chat, along with some of the rules will help most everyone enjoy the chat rooms more and make more friends. This is a page we started working on a long time ago, and are finally getting version one of the how to video published.
How to score more friends and lovers in the chat room, draft version 1
Learning the functions of the chat system
Block / iggy
Turning pms on / off
Whispers, pms, and pasting whisper code
Changing rooms
Actions – create your own with the colon
Ways to interact in the chat rooms (and what to avoid)
Don't come off desperate, and don't flood the chat
Take your time, learn some of the common etiquette among the different groups in the different rooms.
Introduce yourself, and join in the open conversations to show your personality.
Learn the rules of the chat to avoid people hating on you.
Some female users change their setting to so that they do not receive private messages due to the large amounts of pms they receive when they log on.

You can do this by selecting the gear icon at the top of the page and selecting 'Ignore private messages.' You can change this setting at any time during your stay.
Add your ideas to our next how to videos
We intend to create a few more how to videos to go along with this page.  We hope that others will suggest things that we should add to the next versions of this how to score series. If you have ideas that could be added to help others, please let us know in the comments below or via email directly to Nash. We welcome all ideas and suggestions.
If anyone would like to suggest additions to the current script, or addons for the next video, we'd love to hear your ideas. If anyone would like add their actual voice to our upcoming videos we have several options where you can record your voice to help us enhance these learning videos. We are also looking for pictures, graphics and videos, so if you'd like to contribute to this project in any way, please let us know.
I am thinking we may need a section for tips specifically for women, and another for men. I would love to hear what other regular users suggest we add to the page here.
This collection of helpful tips should make the chat experience better for everyone, and it may be renamed or given a nickname like "challenge to the noobs". A kind of compliment to our challenge to the regs.