We finally got some new code put into the mv chat system! I believe this update will fix the biggest problem that our core groups of users were having with the user created rooms aka side rooms. There was a weird bug before where the option to kick people out of a user created side room was not working – this update fixes that!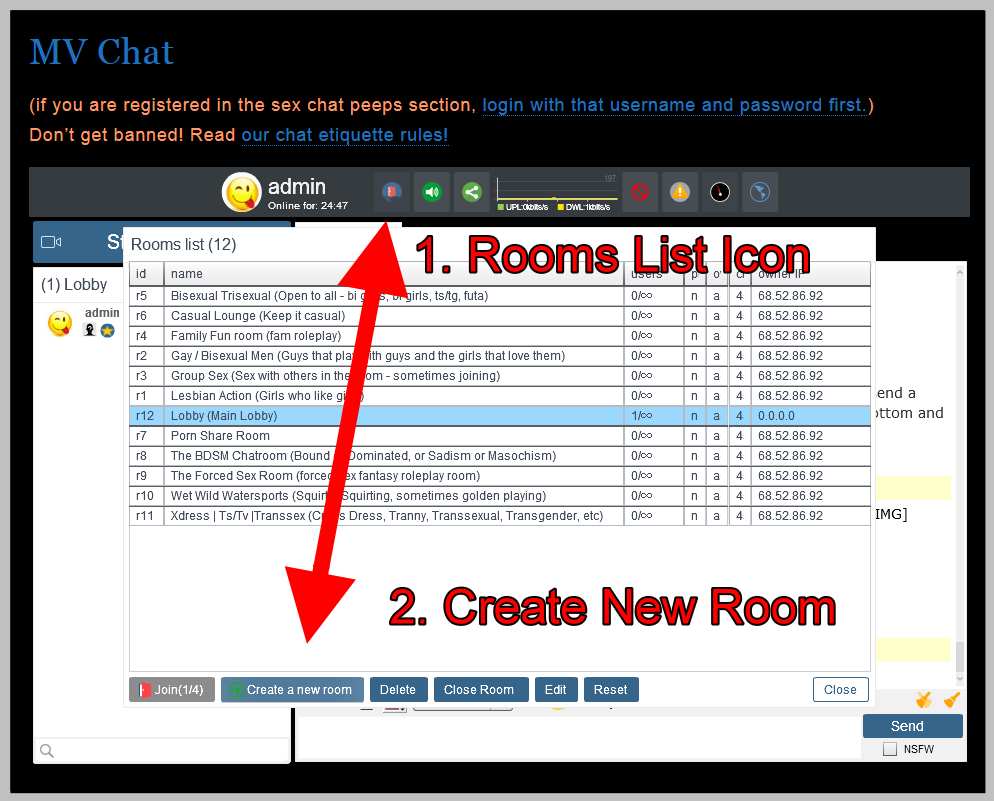 We have started work on a "dark theme" for the mv chat system as well. This is a feature that was requested many times and something we've kept on the drawing board. Now that we have the main problem with this system fixed, and since we are experiencing some other problems with our other systems, we expect that more and more people will migrate over to the mv chat system as time goes.
Some hiccups / problems right after the upgrade
Apparently we had more little snafus with the initial upgrade than I realized at first! Looking into the chat rooms today I see the code to move the user list to the other side got axed and not replaced yet. I see some people had a hard time getting in with thier registered screen name – I hope that is fixed for everyuone at this point. I see that some people figured out some things I forgot to check like allowing visitors to send pms! Got that setting back to the way it was now!
There's a few more quirks to iron out – like the nsfw checkbox and the sweep thing I gotta fix. If anyone is aware of anything else that I missed, please let me know in the comment below, or send me an email / contact!
We are working on more upgrades for the mv chat and getting very close to rolling out a public test of our upcoming tekor chat system as well.
We depend on feedback from the users here, so hopefully we will get plenty of that in the near future and get it organized to we can make the newer chats better than the old one. It's funny and a bit sad that after experimenting with so many different systems using newer tech, that most of our users prefer the features in our old chat from a decade ago.
Here's to new things that will hopefully be better than the ones of the past.
Click here to go to the mv chat system page in the peeps section.