We upgraded some of the backend code for the peeps / sex chat community section today. This upgrade gave a major update to how this system handles uploading pictures, cropping images, saving them, etc. So I updated our tutorial on how to upload pics there, get the images to the right size, and and acquire the url needed to enter it in the avatar url section for the chat room.
So click here to see the new tutorial for uploading images, resizing, and saving to use as your chat room avatar.
The new tutorial has lots of pictures to help everyone along through the process. All this was done using firefox, so if you are using Internet Explorer, Chrome, Safari, etc – then it may look a little different, but I think the photos and the updated text will guide everyone along to handle it just fine.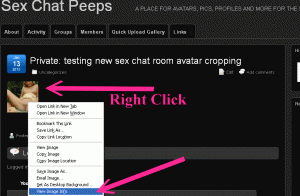 This is a simple tutorial for using wordpress to create a blog post, upload an image, crop it, maintain a square aspect ratio, save the image as a thumbnail, publish a post (even privately), and get the url needed for our chat rooms. Hope everyone enjoys it, and if you find any mistakes or extra info that will help other users, please post in the comments on that page.