The emoticons we have been using the past year or so are a mix of some standards, and some custom pieces mashed up when I wanted to change up the standard bland ones with some dirtier ones. During this process of changing some of the standard emoticons we got some feedback from several of the regular users and tried to tailor some to suit the needs of the users' most requested. Creating the newer ones became a mashup from several different artists, mixing up color pallets and creating some that do not blend as well (not to mention a few that just don't have the placement pixel perfect, creating some over-bleed when certain emoticons are used). As much as I enjoy having some naughtier emoticons, it has been my impression that they are not used that often, so updating them is on my list, but has not been a top priority this year.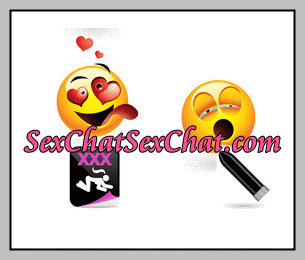 I recently read an article at yahoo shine that talks about the history of emoticons, and asks people if they prefer the use of them, or prefer that people do not use them in various forms of communication. The responses from some of the users there seem to lean toward not using them with business emails and the like, but how they are often needed to convey tone when sending sms / cell phone text messages to friends and lovers. As to where it has been my belief that users here will occasionally use an emoticon in a fun and silly way, a majority of the users here rely on "actions" like when the colon symbol is used for things like : leans back in a stretch exposing and drawing attention to my lower abdominal area.
After reading the article and comments at the shine article, I started to wonder if the people here use more formal methods of chatting in the main rooms, and then rely the use of more emoticons when doing private messages or pm cybersex. If there is a lot of use of emoticons during private chats, then I need to bump the priority of getting them fixed up. So I figured I would open this subject up for comments here and see what everyone thinks.
Most of the past year has been focusing on upgrades, security enhancements, and anti-spam issues more than anything else. I still have a long list of additions we'd like to see in the free sex chat rooms, but the upgrades and other issues have commanded much more time and attention than I ever imagined. As things begin to balance out more I looking to the future enhancements and what priorities to place on each of the sex chat site suggestions, so let me know how important you all think the emoticons are right now.