We have had a few suggestions and a few complaints about the lesbian chat room.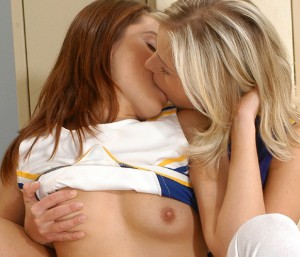 I'm not sure what exactly to do about the lesbian room. In a perfect world we could keep a lesbian room and forum section for verified females who are all adults and who are all definitely lez or bi. Verifying is one of the things that I think most people would enjoy, but it is also something that I bet most people would not want to do either.
If you came to this page from one of the search engines looking for lesbian sex chat, click here for our lesbian sex chat rooms page.
With the current chat room, I know there is the obvious issue of people coming in with male names and making stupid comments like "I can convert you with my mad crazy pussy eating skills" and shit like that. We also are going to have guys coming in with female names, and that's an issue. It's some of the problems that come from having a chat room system that requires no registration and no verification. I think if we moved to having verification as a requirement we would lose a majority of the people using the chat rooms, so we need to find other ways of solving these problems.
Certainly having moderators pop into the various rooms and being able to kick out people who are belligerently rude helps. I am not sure that we should make it a rule that no men are allowed into the lesbian room however, as that will just create another problem of trying to figure who is a guy and who is not, among other things. Some men will just logout and come back with a different name, and other things. There are other options with the current chat system however.
First thing I suggest for the girls in the lesbian room (and people using any of the rooms really) – is that the ignore / block button is very powerful. Someone comes into the room and you do not want to be bothered with them – click the user's screen name and click block. If everyone in the room does that – problem solved. This won't stop people from reading the messages that are posted in the room however.
If you want a lesbian, "Girls only room" – the easiest way to do this is to create your own room. When you create your own room, you can essentially make the rules anyway you want, and the room creator can also kick out anyone they do not want in the room for any reason.
From the few times I have popped into the various niche rooms, I think most of the people use PMs and whispers for the ongoing conversations anyhow.
If you had a few people that want to have a room where everyone can chat openly without PMs and whispers, then it would be simple to create your own "Lesbian Girls Only password protected room" – not only does that give you another layer of protection from unwanted men entering, but it also gives the room creator the power to kick out anyone who comes in. So you could post the password for the new room openly in the chat room, and invite others to follow you there, and you can kick out anyone who is not welcome easily.
Does everyone know and understand how to create your own room here?
Click on the rooms icon (the door with green arrow icon near top of the chat window)
On the bottom right hand side of that window is a button for "Create Room"
If anyone needs for details I will be happy to provide graphics and explanations of passwords and stuff.
For now, we are not going to make it a rule that men can not com into the main system's lesbian room – you are welcome to block/iggy any male names, or any name for that matter. It will not do any good to go find a moderator to kick out someone from that room because they are a guy. If someone is on the lesbian room and breaking other rules such as threatening statements, or flooding and such, then there may be the possibility of kicking someone out, but our mods would need to see proof of such behavior.
(Post updated and changes made to the info here, June 19, 2001 – original post was Feb 8 2011)
update – 04-13-2014 –
We had a complaint about an issue with someone who was going by a name with shemale in it recently, and as to where most of the complaint that I was originally sent had to do with confusion about our policies and access that the mods have, there was more to the story that I think deserves some clarification.
After reading and responding to that complaint, I was sent a portion of some of the discussion that occurred I guess after the main incident that was being complained about originally, and it may be something that we have not specifically touched upon here, or in the rules, or even on the open question post about when do men cross the line in the lesbian chat room here.
As to where the original complaint I received did not have enough details about the situation, and what details were provided were addressed on the moderator complaints page, looking into a few comments that were sent via email to me, I think we should clarify.
Someone said "but to flaunt themselves with open scening is our complaint…" – and this was referring to a 'shemale roleplay' in one way or another. This is a fair complaint in my opinion.
As is mentioned on our etiquette and rules page, certain types of discussions will be overly taboo for certain rooms and should not occur there.
another person said "there's plenty of open scening in here regularly between non-trans women. the fact that alexis is trans should not have bearing on her ability to play in the public space."
This would be true in some of the rooms, but not others. Having an open sex scene in the les room that involves a penis is not allowed, nor is having a screen name like "MyBigCockDripsCumOnYou". There are certain things that are allowed here in some of the rooms that are not allowed in all of the rooms. We offer the ability to create your own room and take an open sexual scene there, so we are not discriminating on any gender or anything. This kind of thing is covered in our rules in the taboo subjects clause:
-Snips-
Edge-play / taboo terms (terms that are not well accepted in the mainstream world) are not allowed to be in the lobby. Certain discussions that may be tolerated in one room may be reason for a kick or ban in another room as well.
-snips-
Coming into the Lesbian action room with a dig dick avatar, or talking about your cock, or other graphic discussions about male genitalia in the lesbian room can get you kicked or banned from the system. Same applies to anyone who would come into the gay / bisexual men chat room and start talking about female anatomy graphically and in the open room.
there are plenty of other details that everyone should know on the etiquette / rules page that will affect how everyone is permitted to use our systems, I highly recommended everyone read and understand the rules, and our terms of service and privacy policy pages.