Cams.com girls doing live sex chat right now!
The cams.com portal has a huge variety of girls from all over the world. Many of the live sex chat girls here speak languages other than English as their primary language. It is nice that the small picture preview with the girls show a little flag to symbolize where they are from, which gives you an idea of their language / accent. Video quality is smooth with this live video chat portal, the quality of the girls varies quite a bit however.

The last several times I have logged into the cams dot com network I noticed that there did not appear to be as many girls from the USA as I had remembered, and that a majority of the girls, or at least the preview "thumbnail pictures" of the girls showed that many we not very glamorous. I think percentage wise, the flirt 4 free video sex chat portal has more glamorous girls than any other, of course that comes with premium pricing and attitude towards new members. With so many of the girls that I found at the cams do com portal simply looking like the girl next door that did not spend much time on outfits or makeup, I have to wonder if this is by design, or the sign of something else.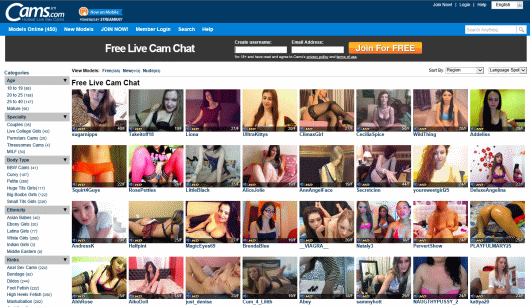 Certainly not every internet surfer is looking for a cam girl to have the perfect tan, perfect makeup, the most expensive lingerie, and everything else that goes with. I think there are people who are looking for that Barbie / Baywatch / Playboy look, but I imagine just as many people think that girls who don those kind of looks are too fake, and prefer someone they will see has being more real. So perhaps having so many of the girls look like the average girl next door, people will be more apt to believe them, and being an online relationship with them. It could be several other reasons as well.
Given that this webcam portal is heavily marketed by many adult webmasters, it gets lots of people going and checking it out. They have been online for many years, and they are powered by the same technology and advertising powerhouse that adult friend finder and it's network of web sites. With so many people pushing visitors to check it out, it's quite possible that the hottest cam girls are taken into private chat most of the time they are online, and so we do not see them in the list of available entertainers when visiting the site. This happens in the busy strip clubs as well, you go in and see a bunch of average women, and wonder how such a busy place makes so much money with some average girls. If you stick around these places long enough you see that there are more hot women there, but they are busy with other customers.
It's kind of a catch 22 for the clubs, and online portals, you want to have your girls taking people to private VIP shows and make money, but you also want to have great looking entertainers on the stage or appearing as being available when new customers come in. It may be a different experience with cams dot com once you are a registered member. I will need to register a new account and see if they have the voyeur option that some of the other portals have. If that's the case, then being a registered member may show you many more options of checking out many more hot women than you see when simply visiting the site as a guest.
You will find many of the cams girls here are very naughty, horny gals, that can not wait to get into the private one on one paid rooms with they can get buck naked and wild!
In 2013 we decided to further partner with the cams dot com portal, and started our own version with a different color scheme. The Erotic Nude Cams dot Biz web site features a darker background and organge type. You still get the same models with this version, and all the other benefits, the main difference is the color scheme and web site name. We did some testing in April 2014 and found that the cams live main portal failed to load several live streams, seems like the web servers were a bit overloaded. So we popped over to our erotic nude cams version and several of the live cam streams loaded right up.
So pick which one you prefer, and if one seems to load slow, go to the next one. Looks like the addition of several new models broadcasting in High Defnition (HD) - is causing some delays for the new visitors. I imagine that since the original founders of adult friend finder are getting more involved in how this network is running, they will likely put more resources into the HD video streams.
---
More premium, video sex chat portals: