Video Sex Chat
There are tons of video sex chat options available these days, certainly many more options today than there were when we tried our first live sex video chat years ago with windows 98 and a 56k modem. Today you can enjoy excellent video (and audio) quality with multiple people around the world with most modern web-connected devices.
When we first created this site and this page, decent quality live video sex was mostly only available to people who had a good desktop computer with a broadband internet connection, and even then the quality was hit or miss depending on the particular portal you were connecting through, the strength of their connection to the internet, and processing power of the computer that the other person had as well.
Here is an example of one of the few portals that offered good global access to video chat:
The above video is live, and the quality is decent so long as you have a computer with a good connection to the internet, with the adobe flash player running.
Don't see the live video from Jasmine above?
Your system may not be able to run the needed video codecs for some reason. No worries, there are more options! Some of our partners have been updating their systems to also deliver live video chat through html5 which works with most internet devices today, including most tablets, cell phones, and even playstation systems. You can get a glimpse of this technology when you click over to the new Jasmine portal.
Other partner sites that offer professionals engaging in live video chat include:
Pro Cam Girls
Pro Cam Guys
On site video chat here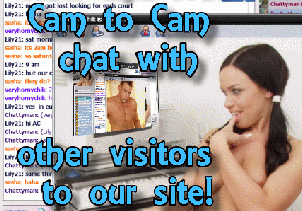 We also offer on-site video chat here for members of scsc to video chat with other visitors to our site. At the time of this writing, most of our visitors still choose to use our popular text chat rooms more than anything else, but the cams chat section has it's loyal group of regular visitors since it offers more options including audio (voice) chat, custom avatars, and more.
We are continuing development of our on-site video chat section, and anticipate that it will work with most mobile devices very soon. We are also working to integrate phone and tablet apps to allow our members to video chat with each other. You will see more information about the various mobile video chat apps others have created in our site news / blog section, as well as the latest updates about our proprietary chat systems.