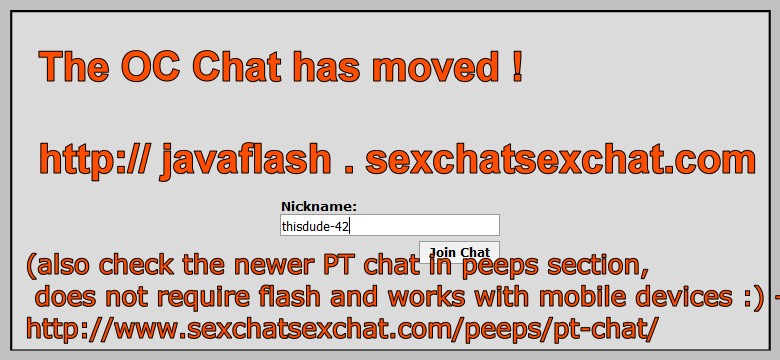 The OC chat aka old chat or original chat has moved to this new subdomain here: javaflash.sexchatsexchat.com
Our new chat system starting July 2018, the PT chat is in the peeps section click here.
More info and comments via blog post here: Moving the OLD chat and making the PT chat more popular.
---
Offline messaging, profiles, picture uploads & more: Peeps profiles.

If the old chat is down - many will migrate to the sex chat space system.
Hope everyone enjoys this less-pornographic page!
Things will move around with different screen sizes here, so if you have a large monitor you will see ads to the right. However if you shrink your browser window then the chat box gets most of the room on the page, the graphics get moved down the page, and things get less sexual on the main screen if you scroll down just right.
Several ladies have been asking for a chat page that was not so overtly sexual in order to use the chat rooms in places where they may have others peek over thier shoulders.
I do not condone using our sex chat rooms at work or public places like cafes, however I do try to make women more happy if I can. I think this page finds a good balance of sexy without being overly sexual when you make the browser window the medium size.
Hopefully the women who were suggesting this option will enjoy it!
---