Rock hard Guys Live with Roc Cams
Rock Hard Guys Cams
Roc Cams is a premium video sex chat portal that features men only. You won't have to sort through a bunch of girls and couples to find the guys who are showing off via live video chat here. A portal that removes all the clutter you find with most major video chat portals, it's a nice simple layout and easy to navigate to the various niches of men who are live online with this streamate associated portal.
It is nice to see the diversity that is represented with this site. Most of the major players in the video chat professional cams realm focus all the attention and niches on the girls categories, and leave only one or two categories for the men. Roc Cams actually has options for viewing all the men who are available at once, or look into the niche categories to find a guy who may be into specific things that you are interested in. For example, Cam Tracks has two categories for guys – Gay Guys and Straight Men – and as reported in our review, we are not sure that is very accurate. With Roc Cams the guys are listed as all online, as well as by individual niche interests like these:
Alternative 78 Online
Asian 16 Online
Athletic 64 Online
BDSM 16 Online
Bears 15 Online
Big Cock 36 Online
Bisexual 54 Online
Black 11 Online
College 86 Online
Couples 5 Online
Daddy 8 Online
Gay 97 Online
Latino 38 Online
Mature 6 Online
Muscle 45 Online
Straight 15 Online
Twinks 68 Online
Uncut 104 Online
Friends (Non-Nude) - Guy Friends 1 Live
The video quality here is quite impressive, and being able to listen in with the audio makes chatting much easier than simply typing and reading text. There are multiple video window sizes that automatically resize when your browser window changes. This is a nice responsive design for most situations, but some may not see this auto adaption.
The video for the free chat room I experienced the day of this writing was a good size, and when I made my browser window smaller, the video window got smaller and the text chat box moved to make up a decent portion of my smaller screen. This is a great option for smaller screens that you find with laptops, tablets, phones and other devices. In my tests using firefox, the video box did not get larger when I made the browser bigger. This could be a problem for those who surf with multiple windows open and have their browser at half screen, then decide to make it larger. There are three buttons you can click to change the video screen size, so you won't be stuck with a particular window size however. When you click over to see one of the guys there is also a quick notice about double tapping F11 to go to or exit full screen view.
I saw a guy one here that looks like one of my friends, so I clicked over and the video screen was almost full screen right away. He was laying there stroking his dick under a little towel; teasing those who are browsing by the free chat room he was broadcasting. I must say it must be nice to lay in bed and play with your cock all day and get tips sent from others who are enjoying the view.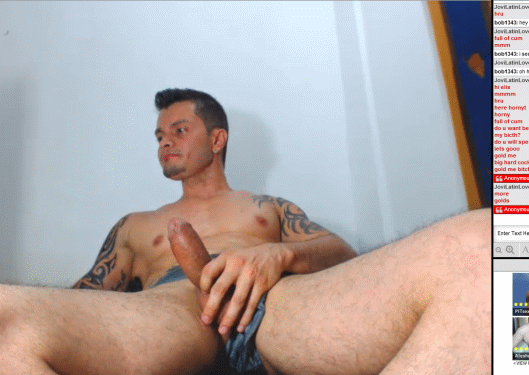 Today I did see some nude dick stroking action in one of the free video chat rooms. This guy was stroking his cock with his underwear on on the free chat, then I noticed several other people coming into the chat and asking to see some hard cock, a few "anonymous tippers" starting chipping in a few bucks at a time, then bam – hard dick full screen – stroking away. So there appears to be a chance that you can catch some action that others are tipping for, even in the free no registration required chat rooms. Most of the time you find that kind of action in the private rooms, or the semi-private (registered users who are tipping) rooms. This place is a good time waiting to happen, I just had to spend 15 minutes cruising around the rooms and looking before I decided that the free action was great, and taking the minute to register a screen name and putting a few dollars into tipping obviosly makes it even better.
This portal has all the options you would expect from a modern video chat site, several models, good video quality, free video chat, party / group chat options (where multiple people can tip up to a goal and then get semi-private access to nude and naughtier shows that are not available in the free rooms), and private one on one options. I like that fact there are quick access options to the various niche performers, this saves a lot of time compared to similar professional sites.
This may be the best place to browse and find men doing lots of different video sex shows, mainly because of the niche categorization. Of course when it comes to each individual's favorite cam site for men, it really depends on that individual and finding the right guy that you hit it off with. So I would check this one first, and check back later in the evening to see who comes online later. I would also check into the other professional portals and see who is broadcasting there. All of the pricing is very similar and other features are all very similar, so it's more a matter of finding that place where your next online hottie is showing off. Roc Cams may be the one.
---
More portals featuring live guys:
Rock Hard Guys Cams