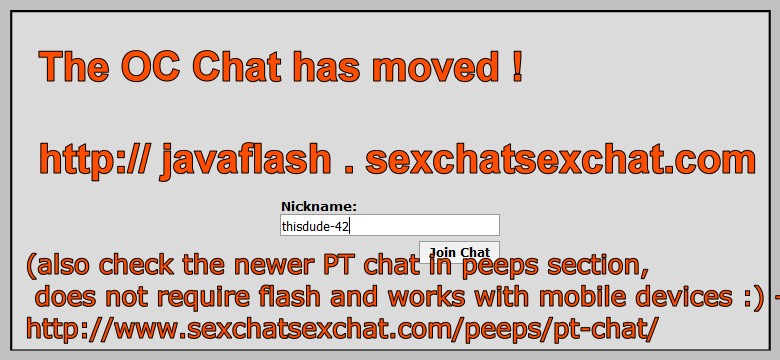 The OC chat aka old chat or original chat has moved to this new subdomain here: javaflash.sexchatsexchat.com
Our new chat system starting July 2018, the PT chat is in the peeps section click here. The PT chat system works with mobile devices and integrated with profiles from the peeps section including avatars and more.
More info and comments via blog post here: Moving the OLD chat and making the PT chat more popular.
Welcome to the gangbang sex chat rooms page! Group sex sex, several guys fucking one girl, or several girls sexing one guy? It's all welcome here. Sometimes it's an all out orgy and sometimes just a couple of threesomes going on at once. Follow all of the etiquette rules and enjoy the group sex and gang bang action!
Profiles, offline messaging, groups, friends lists, picture uploads & more in the Sex chat peeps section.
The group chat system above will not work with most mobile devices. We have some newer chat systems that do work with most mobile devices like tablets and cell phones however.
If the OC chat is down - many will migrate to the sex chat space system.