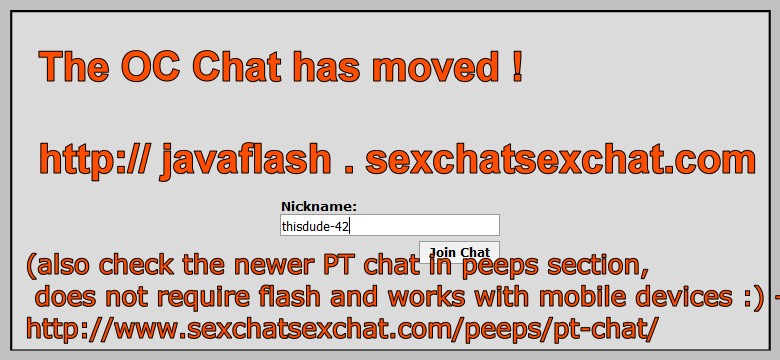 The OC chat aka old chat or original chat has moved to this new subdomain here: javaflash.sexchatsexchat.com
Our new chat system starting July 2018, the PT chat is in the peeps section click here.
More info and comments via blog post here: Moving the OLD chat and making the PT chat more popular.
---
Sex chat peeps profiles, offline messaging, picture uploads & more.
If the oc / old chat / original chat and the mv chat is down - many will migrate to the sex chat space systems.
---
Lesbian chat room common problems, issues, and suggestions - click here to read
The lesbian chat rooms here usually have a smaller group of people as compared to the main lobby and some of the other rooms in the system. However the core groups of girls who hang out in the lez room tend to be more serious and focused. Of course girls looking for other girls to chat with will also venture into the other rooms here, but we have had to ask that people keep overly overt sexual advances in the proper rooms, and this includes not being overly graphic when hitting on women in the lobby and other system rooms.
We do have some special rules about the lesbian room here. You can read about some of our specific etiquette expectations on the rules page and the content guidelines page. We also go into some details on the lesbian chat issues blog post.
Basically guys can't come in here with dick pics and start talking about their junk. At the same time we don't allow women to just harass people and put them down based upon their gender or sexual orientation. So please don't be mean to people just because they are not exactly as you are, or how you'd like them to be. Play nice, learn to use the iggy / block user button, live and let live.
If you find someone is breaking the rules or becoming very disruptive, please go to the lobby and ask if a mod is around to talk about the issue. We want this place to be a safe place for people to chat, no matter if they are gay, straight, bisexual, non-sexual, curious, non-curious. Whatever you are now, have been, or will be - it's fine with me.
I love girls that love girls. ~ Nash
Live lesbian action! Click here for video sex chat with professional cam girls at Erotic Cams Live