We've been kicking around this idea for a long time, and now it seems we have little choice but to start creating user levels.
Whatever system we start with will likely change drastically, so don't think whatever we start out with is going to be the system that everybody must deal with forever. I'm also looking for ideas and feedback from everyone to make the system better. I have some ideas, and hopefully others will be able to chime in and make them better.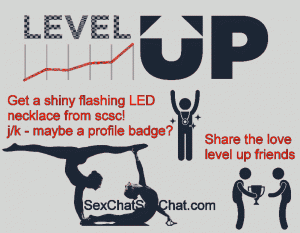 Something like this:
Enter the chat without a registered name, level 1
Registered account in the peeps section, level 2
Spent some time around here.. level 4
Very cool – level 6
level 0 -2 – can not send pms, can not create rooms, can not enter user created rooms, or mezzanine rooms and some others.
level 4 – can send pms, create rooms, enter other rooms..
The restrictions per level are up in the air right now – we'll see how they work out and adapt as is best for the community.
I'm thinking of several ways that people can get "points" that add up to higher levels. Perhaps taking a quiz, posting in a poll, maybe getting points from another user. I'm also looking at some things that can be done in the backend that do some point adding for various things. Amount of time someone has been a registered member could also be a factor in points.
Tell me in the comments below, or vote in our poll:
-> how-many-chat-peeps would you vouch for
(log in to the peeps section and vote, it may give a point bonus)
Let's say the average user level is 3
I'd like to make a system where known users can vouch for others and level them up – with a limit.
Something like each known user gets 300 points.. and they can vouch for another and give them 100 points, which would level the other person up to the point where they can join private rooms or something.
This was people that have real friends here can give them a hand up, and if it turns out that bad people (people who violate the rules here) are leveled up by someone, we can choose to knock down the level of the bad person, and the person who vouched for them.
Something like this.
Thing is, we have tried to deal with the problems that come with having a no registration sex chat room. For the most part I'd say the community here has done really well for a long time in not abusing this kind of system. Here lately we have had a few people really go out of their way to abuse this system, and it's time for a change.
So we are upgrading our mv-chat system, fingers crossed that we have the new version with more features ready before the end of the week.
We'll get some kind of karma / cool points system setup this week as well.
We'll do some testing, and we may be able to migrate to a better system very soon.
Given that we've had several people going out of their way to abuse our open chat system, we may shut down the OC aka Original Chat / Old Chat very soon.
Before anyone freaks out, wait for upgraded mv system to get online, shooting for Thursday.
We're making it so it is much more like the OC; moving the user list and adding some new emoticons. I think this new system will be much better for most people. Unfortunately we don't have much of a choice at this time, a few people like Ma.. and Ba… basically forcing us to shutdown the OC.
Here's to the changing future.
Tell me in the comments below, or vote in our poll ->
how-many-chat-peeps would you vouch for
Those who want to register early -> www.sexchatsexchat.com/peeps/register/