BDSM Sex Chat
Our free chat rooms have designated rooms for bondage, domination, and Sado / Masochistic role play. We also have designated chat rooms for fringe role play that is sometimes related to BDSM, and sometimes not. We do not allow discussion of many aspects of the BDSM scene in the main lobby, but asking if anyone is interested and would like to join you in another room is okay. Sometimes you find people in the main general lobby who are interested in some forms of BDSM chat, when people find others with similar interests they usually go to one of our designated rooms, or create their own.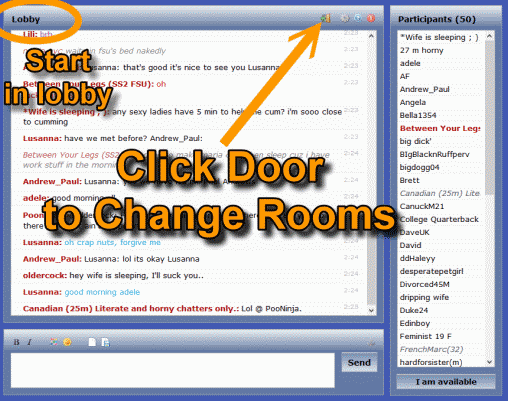 Inside our free text chat rooms on site here we have setup BDSM rooms for users to pop in and play. The separate BDSM rooms on site here sometimes have a few people in them, and sometimes they don't. Many times people will meet in the main lobby and mentioned their interest one flavor of bondage, or domination, spanking, etc - and they will then move the separate room and continue the discussion there. We have also established a "forced sex fantasy chat room" in the main system, as there are often several people who want to engage in that kind of fantasy role play in the chat rooms. We try to keep any hardcore BDSM talk or taboo / edgeplay out of the main lobby, and into one of the sub niche rooms. This keeps the vanilla people from freaking out about things they do not understand.
Our BDSM Sex Movies Info / Page Click Here.
---
Also check out these other bdsm related pages and sites around the web. You may find free bdsm sex chat for registered users!
---
Not everyone has the same limits with bondage, domination, submission, sadism and masochism. Be sure to follow the same real world rules of discussing limits, safe words, and other safety precautions.
If you are new to the bdsm scene, be sure to read up on the subject, and follow all rules of internet safety and real world safety.

Suggested reading: Jay Wiseman